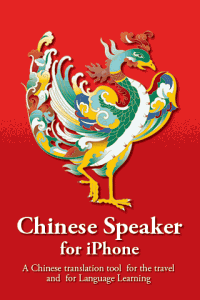 Only touch the panels, you will be instantly good Chinese speaker. Over 300 word & phrases are available for speaking, hearing, and seeing the Chinese character spelling.This is suitable for the travelers to China and the beginners who studies Chinese.
You can easily find any words on the screen by touching the panel. All words and phrases are classified into five categories that covering various situations.
Moreover, in the place that should be made quiet and the noisy places on the outdoor, you can communicate by seeing the character displayed on the screen.
also, this is suitable for the beginners to learn Chinese pronunciation and to confirm Chinese character spelling at once.
[features]
- Four basic categories are prepared :"Basic","Eating","Shopping" and "Talking"
- Each category have 3 screen, and by flick you can switch the screen. A category consists of about 80 word & phrases, and is more than 300 in total.
- Every word is spoken clearly by native Chinese.
- The usage is very easy. First of all, please choose the necessary situations from four categories under shown, then select the screen by flick and touch the button on the screen. Then Chinese is spoken out and the Chinese Character appears in the upper window. Everyone can easily use it.
- In the background of each category, a traditional design pattern of China is used, and the theme color is changed on each screen. Its beautiful appearances and simple use will be give you entire satisfaction
- In some sections, more practicing sentences can be made by selecting the word. For instance, In the section of "Order of the restaurant", at first touch the button of "Please ", second touch the button of "name of dish", last touch the button of "(Request)". Then a waiter will understand your request.
Collecting word & phrase
[ Basic]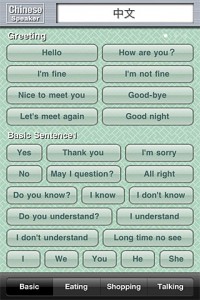 - Greeting
[Hello], [How are you?],
[I'm fine], [I'm not fine],
[Nice to meet you], [Good-bye],
[Let's meet again],[Good night],
- Basic Sentences 1
[Yes], [Thank You], [I'm sorry],
[No], [May I question?], [All right],
[Do you know?], [I Know], [I Don't Know],
[Do you understand?], [I understand],
[I Don't understand], [Long time no see],
[I], [We], [You], [He], [She],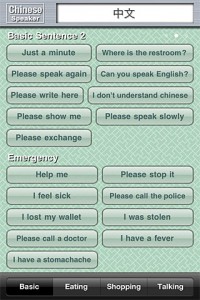 - Basic Sentences 2
[Just a minute], [Where is the restroom?],
[Please speak again], [Can you speak English?],
[Please write here], [I don't understand Chinese],
[Please show me], [Please speak slowly],
[Please exchange]
- Emergency
[Help me], [Please stop it],
[I feel sick], [Please call the police],
[I lost my wallet], [I was stolen],
[Please call a doctor], [I have a fever]
[I have a stomachache],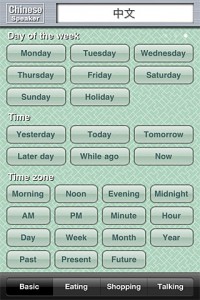 - Day of the week
[Monday], [Tuesday], [Wednesday],
[Thursday], [Friday], [Saturday],
[Sunday], [Holiday],
- Time
[Yesterday], [Today], [Tomorrow],
[later day],[While ago], [Now],
- Time zone
[Mornig], [Noon], [Evening], [Midnight],
[AM], [PM], [Minute], [Hour],
[Day], [Week], [Month], [Year],
[Past], [Present], [Future]
[ Eating ]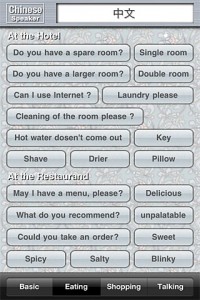 - At the hotel
[Do you have a spare room?], [Single room],
[Do you have a larger room ?], [Double room],
[Can I use Internet ?], [Laundry please],
[Cleaning of the room please],
[Hot water dosen't come out], [Key],
[Shave], [Drier], [Pillow]
- At the restaurant
[May I have a manu, please ?], [Delicious],
[What do you recommend ?], [unpalatable],
[Could you take an order ?], [Sweet],
[Spicy], [Salty], [Blinky]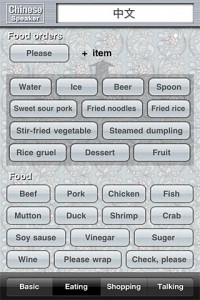 - Food orders
[Please], [(Request)]
[Water], [Ice], [Beer], [Spoon],
[Sweet sour pork], [Fried Noodles], [Fried rice],
[Stir-fried vegetable], [Steamed dumpling],
[Rice gruel], [Dessert], [Fruit],
- Food
[Beef], [Pork], [Chicken], [Fish],
[Mutton], [Duck], [Shrimp], [Crab],
[Soy sauce], [Vinegar], [Sugar],
[Wine], [Please wrap], [Check, please]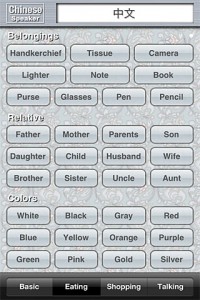 - Belongings
[Handkerchief], [Tissue], [Camera],
[Lighter], [Note], [Book],
[Purse], [Glasses], [Pen], [Pencil]
- Relative
[Father], [Mother], [Parents], [Son],
[Daughter], [Child],[Husband], [Wife],
[Brother], [Sister], [Uncle], [Aunt]
- Color
[White], [Black], [Gray], [Red],
[Blue], [Yellow], [Orange], [Purple],
[Green], [Pink], [Gold], [Silver],
[ Shopping ]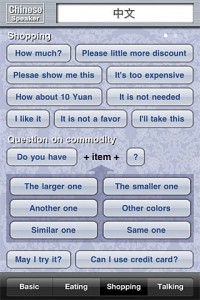 - Shopping
[How much ?], [Please little more discount],
[Please show me this], [It's too expensive],
[How about 100 Yuan ?], [It is not needed]
[I liked it], [It is not a favor], [I'll take this],
- Question on commodity
[Do you have], [?],
[The larger one], [The smaller one],
[Another one], [Other colors],
[similar one], [Same one]
[May I try it ?], [Can I use credit card ?]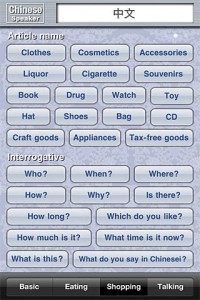 - Article Name
[Clothes], [Cosmetics], [Accessories],
[Liquor], [Cigarette], [Souvenirs],
[Book], [Drug], [Watch], [Toy],
[Hat], [Shoes], [Bag], [CD],
[Craft goods], [Appliances], [Tax-free goods]
- Interrogative
[Who ?], [When ?], [Where ?],
[How ?], [Why ?], [Is there ?],
[How long ?], [Which do you like?],
[How much is it?], [What time is it now?],
[What is this?], [What do you say in Chinese?]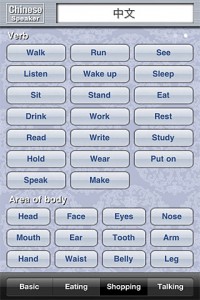 - Verb
[Walk], [Run], [See], [Listen],
[Wake up], [Sleep], [Sit], [Stand],
[Eat], [Drink], [Work], [Rest],
[Read], [Write], [Study], [Hold],
[Wear], [Put on], [Speak], [Make]
- Area of body
[Head], [Face], [Eyes], [Nose], [Mouth], [Ear],
[Tooth], [Arm], [Hand], [Waist], [Belly], [Leg]
[ Communication ]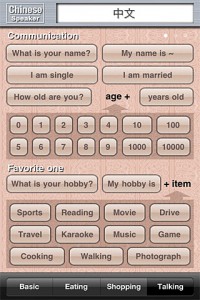 - Communication
[What is your name?], [My name is ~],
[I am single], [I am married],
[How old are you?], [ years old],
[0], [1], [2], [3], [4], [10], [100],
[5], [6], [7], [8], [9], [1000], [10000]
- Favorite one
[What is your hobby?], [My hobby is ~],
[Sports], [Reading], [Movie], [Drive],
[Travel], [Karaoke], [Music], [Game],
[Cooking], [Walking], [Photograph]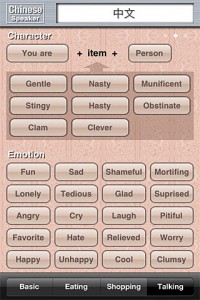 - Character
[You are],
[Gentle], [Nasty], [Munificent],
[Stingy], [Hasty], [Obstinate],
[Calm], [Clever]
- Emotion
[Fun], [Sad], [Shameful], [Mortifying],
[Lonely], [Tedious], [Glad], [Surprised],
[Angry], [Cry], [Laugh], [Pitiful],
[Favorite], [Hate], [Relieved], [Worry],
[Happy], [Unhappy], [Cool], [Clumsy]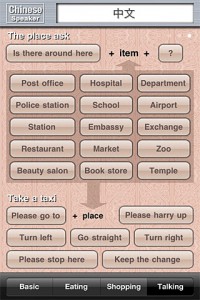 - The place ask
[Is there around here], [?],
[Post office], [Hospital], [Bank},
[Police station], [School], [Airport],
[Station], [Embassy], [Exchange],
[Restaurant], [Market], [Zoo]
[Beauty salon], [Bookstore], [Temple]
- Take a taxi
[Please go to ~], [Please hurry up],
[Turns left], [Go straight], [Turn right],
[Please stop it here], [Keep the change]